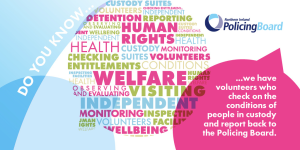 Independent Custody Visitors (ICVs) are volunteers from the community.  They  make unannounced visits to police custody suites to monitor the welfare and treatment of people in detention and the conditions of detention.
They do this by, in pairs, speaking with people in detention, inspecting facilities and checking custody records.  This is an essential legislative role for the Board, ICVs report their findings to the Board and this helps ensure PSNI meet their human rights responsibilities.
If you are interested in becoming a volunteer register your interest by emailing the Board at information@nipolicingboard.org.uk and we will advise of any future volunteer vacancies / recruitments.