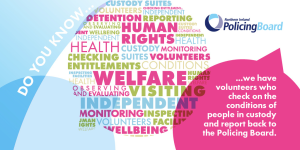 The Independent Custody Visiting Scheme is a volunteer scheme that helps the Policing Board deliver independent oversight of policing and ensure the PSNI are meeting their human rights responsibilities.
Independent Custody Visitors (ICV's) are impartial volunteers from the community who visit PSNI custody suites across Northern Ireland. They do this to monitor the rights, welfare and treatment of people being held in custody, and the conditions of detention.
The Board is responsible for managing the Scheme and provides all our volunteers with relevant training and support for the role.
Become a Volunteer
If you would like to get involved with the Independent Custody Visiting Scheme, please see the links below to the Information Booklet and Application Form. As this is a rolling recruitment campaign, the Board will aim to hold informal interviews at regular intervals, as and when new ICV's are required.
The Board will advise you of an indicative timeframe once your application form has been processed.
You can read more about the operation of the Scheme in the Custody Visiting Annual Report.
If you have any queries regarding the scheme or with any aspect of completing the application form, please contact us by emailing custodyvisitingrecruitment@nipolicingboard.org.uk