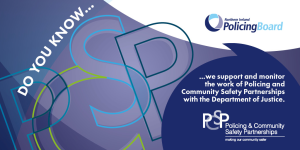 Policing and Community Safety Partnerships (PCSPs) are local bodies made up of Councillors and independent people from each Council area who work to make your community safer.  They do this by focussing on the policing and community safety issues that matter most in your area.
These statutory bodies were established under the Justice Act (Northern Ireland) 2011 and were set up on 1 April 2012.
They are funded jointly by the Board and the Department of Justice.
Find out all you need to know about PCSPs by visiting the PCSP website and in the monthly ezine inpartnership.
You can also join PCSPs on Facebook and follow them on Twitter
To find out more, view the following documents:
Please see a copy of our Privacy Notice which outlines how we will handle your personal information.