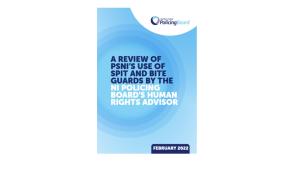 The Policing Board has published a report today by its Human Rights Advisor on the PSNI's use of Spit and Bite Guards.
Policing Board Chair Doug Garrett said:
"This report considers all relevant information and provides a human rights assessment of the application of Spit and Bite Guards.  It also reviews all the current evidence, safe-guards and protections and makes a number of recommendations in relation to training and guidance.
The Report was considered by the Board at its meeting on 3 February 2022. The Board now accepts the continued use of Spit and Bite Guards by the PSNI subject to the agreement of a governance framework that it will review on a regular basis. The Board has agreed that in developing such a framework, the Chief Constable should be mindful of key elements within the Advisor's report including:
The use on children and other vulnerable people;
The possibility of greater opportunities for de –escalation;
The use once a suspect has already been restrained; and
Officer training and differences in use in relation to community background."
Ends
For further information please contact the Board's Communications Office on 028 90408500
Human Rights Advisor's Report can be read here: /publication/review-psnis-use-spit-and-bite-guards-by-ni-policing-boards-human-rights-advisor