Question
1)      Have Police identified a rising number of bicycle thefts?
2)      Has there been a regional/Policing district analysis of any pattern of rising numbers of bicycle thefts?
3)      Is there any public information work planned, or already carried out, in relation to bicycle thefts, either by PSNI or in conjunction with PCSPs?
4)      Are there available figures to illustrate arrests, prosecutions or convictions for bicycle theft?
Answer
Bicycle theft across Northern Ireland has shown an 18.6% decrease PFYTD (2019/20) vs FYTD (2020/21) (844 vs 687 - 157 less incidents). This, however, is not in line with general trends over a 5 year period. From 2015/16 to 2019/20 a 23% increase in bicycle theft has been recorded, with year on year increases with the exception of 2018/19 and 2020/21.
Bicycle theft analysis indicates that this crime type has a particular locus in Belfast Policing District, with 2019/20 figures showing Belfast as experiencing 66.2% of all bicycle thefts in Northern Ireland, followed by North Area (16.9%), South Area (13.8%) and Derry City & Strabane (3%). This is outlined in the graph below.
The Police Service of Northern Ireland participates in the national crime cycle working group.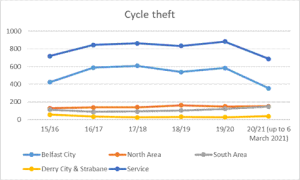 A sample of current initiatives and activities includes:
'Bikeregister' - Cycle marking and cycle security seminars throughout Northern Ireland to provide advice to cyclists around securing cycles at home and when out and about. Cyclist safety is also covered and how to travel safely on road networks.  These are funded through both local police budgets and PCSPs.  Police promote the use of 'Bikeregister' to facilitate the process of returning located cycles to their owners.  At this time, 9,292 cycles are registered with 'Bikeregister' in Northern Ireland.  
'Pink Bikes' – Pink bicycles immobilised and placed in areas of high cycle theft with police messaging around how to secure your cycle. Deployments are ongoing.
Social Media/City Centre Signage – Regular prevention messaging is placed on our social media platforms (e.g. 'lock it or lose it'campaign). This message is also part of ongoing partnership working with a company responsible for digital displays in City Centre Belfast. A Police Service cycle theft video is also available on YouTube outlining how to secure cycles and the work we are undertaking to locate offenders.
Work is ongoing with Belfast City Council to link in cycle parking areas with police CCTV. This will create 'secure zones', through use of signage, coverage of CCTV and a dedicated App, directing cyclists to use these parking locations.
Tracker Cycles – This is a police asset deployed to identify those involved in cycle theft.
Regular visible police deployments to identified cycle theft hotspots are undertaken to provide support and reassurance, as well as identify those involved in cycle theft.
 
Since 2015, 178 people out of 4,827 incidents (4.9% outcome rate) have been dealt with by police officers for theft of a cycle. This includes:
130 offences charged or reported to the Public Prosecution Service;
11 non-court disposals, directed by the Public Prosecution Service;
37 Community Resolution Notices issued.
John Blair - Alliance