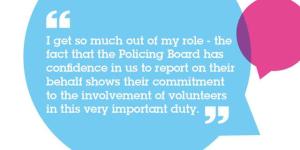 Independent Community Observers (ICOs) are appointed by the Policing Board to monitor PSNI recruitment campaigns.
ICOs are volunteers from the community who monitor key elements of the PSNI recruitment process to ensure that procedures in place when recruiting and appointing PSNI Officers are fair and equitable. They do this by measuring if the same procedures are applied to all candidates and evaluating whether facilities and arrangements are adequate. They then report back to the Policing Board on findings.
Independent Community Observer (ICO) appointments are made in line with Section 10 of the Police (Recruitment) (Northern Ireland) Regulations 2001.
Privacy Notice for Independent Community Observer Scheme