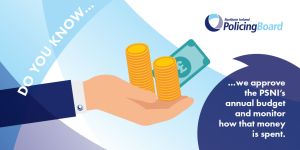 The Policing Board has a role in negotiating the annual policing budget for the PSNI and for holding the Chief Constable to account for how that budget is spent.
The Chief Constable has delegated authority in relation to the day to day responsibility for the police budget but must report to the Board on how the money is spent. The Board is responsible for making sure that the funds are spent in an effective and efficient manner and in line with the objectives outlined in the Policing Plan.
The PSNI monthly Management Accounts are tabled at meetings of the Board's Resources Committee and the year-end Annual Accounts are presented to the Committee for its consideration and comment. Police funding is divided into several different categories, the largest category being expenditure on salaries and running costs (revenue expenditure).
The PSNI also receives funding for expenditure on capital items such as land, buildings and vehicles where benefit will be derived from the expenditure over a number of years.
A large part of the police budget relates to salaries (over 70%) and consequently, Board Members concentrate to a large degree on the Human Resources elements of the Police Budget.
The Board remains concerned about the future funding of policing and remains committed to securing the necessary resources to continue to deliver the best possible policing service.