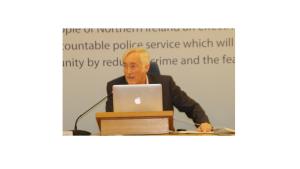 Condemning the attempted murder of a member of the Police Service of Northern Ireland, Policing Board Chair Doug Garrett said:
"This vile act of terror was designed to kill this member of the Police Service and our thoughts are very much with her and her family as they come to terms with the shock of being targeted in this way.  
Those responsible are condemned as is their warped desire to take the life of someone for simply doing a job.  We are thankful that vigilance meant their plan did not succeed and call on the wider community to stand with the police and reject those responsible for terror and violence against our policing service.
The police have made an appeal for information and we encourage anyone who can help to pass this directly to the investigating officers or anonymously through Crimestoppers."
Ends