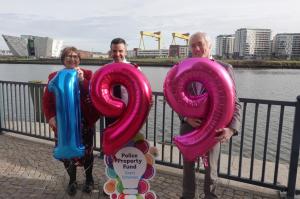 The Northern Ireland Policing Board has announced the award of £199k in the first round of grants from The Police Property Fund Small Grants Scheme, with a further £100k up for award in the second call for applications.
The £199k of Grants Awarded from Call 1 will fund 31 projects from across Northern Ireland with each receiving grants of between £1000 and £10,000. Tackling issues such as anti-social behaviour, mental health and addiction, training search and rescue volunteers, engaging young people, older people, each of the projects are grounded in the community and work closely with the Police Service of Northern Ireland PSNI and local Policing and Community Safety Partnerships (PCSPs).  A full list of the projects can be found at the end of this release.
Speaking about the Scheme, Policing Board Chair Doug Garrett said:
"We are delighted to be able to offer grants to community projects throughout Northern Ireland. The Scheme has been designed by the Board to support project ideas that will improve safety in local areas, and support partnership building and relationships with policing and within the community.
Community engagement has become increasingly important over the last few years, and we're grateful to be able to help forge and strengthen connections between local groups, Neighbourhood Policing Teams and Policing and Community Safety Partnerships through the monies offered by the Police Property Fund. Confidence in policing is key to a safe society and we hope the projects funded by the Police Property Fund will help contribute to safer, more engaged communities.
Any group with a project that may benefit from funding is encouraged to find out more about the Fund and how to apply on our website."
Congratulating those receiving Grant Awards, Assistant Chief Constable Bobby Singleton said:
"The 31 projects which have received funding through the Police Property Fund are all brilliant examples of 'Policing with the Community'. The Fund is a great example of how the Police Service and the Policing Board are investing in neighbourhood policing and community safety to deliver projects which can make a positive change and tackle issues of concern within our communities.
"Today provides us with an opportunity to recognise the efforts of those organisations and people within them who work tirelessly within our communities.
"We look forward to further applications being received with Call 2 of the Police Property Fund now open, and thank those who have engaged with the Fund to date."
Ends
For further information please contact the Board's Communications Office.  
Notes to editors
Police Property Fund: The Board is allowed to provide payments to organisations for charitable purposes under the Police (Property) Regulations 1997. The monies in the Police Property Fund come from assets recovered by PSNI during criminal investigations, and the Scheme is administered by the Board in line with the Police (Property) Regulations NI 1997. To be eligible, organisations have to demonstrate that their projects engaged with local police, contributed to building community safety and/or confidence in police, and are aligned to a charitable purpose.
Police Property Fund Small Grants Scheme Call 1: A full list of successful projects can be found here: /publications-search
Police Property Fund Small Grants Scheme Eligibility Criteria : All information about the eligibility criteria for the Police Property Fund Small Grants Scheme and application documentation for funding for Call 2 can be found on the Board's website www.nipolicingboard.org.uk
Notes Ends