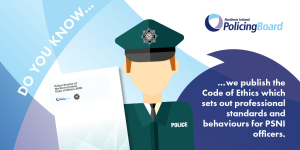 As required by section 52 of the Police (Northern Ireland) Act 2000 the Board published a PSNI Code of Ethics in 2003 which provides an ethical framework for the decisions and actions taken by police officers, outlining acceptable standards and behaviours; and to ensure police officers are aware of the rights and obligations arising out of the Human Rights Act 1998.
The Board is also required to assess the effectiveness of the Code and revise as necessary. A revised Code of Ethics was published in 2008.
The contents of the Code are drawn from a number of sources including the PSNI attestation; the European Convention on Human Rights; and other relevant human rights instruments including the United Nations Code of Conduct for Law Enforcement Officials, the United Nations Basic Principles on the Use of Force and Firearms by Law Enforcement Officials and the European Police Code of Ethics.
All serving police officers within the PSNI are required to comply with the Code of Ethics. Where an allegation of misconduct against a police officer is made, the standards against which the officer will be measured are those contained within the Code of Ethics. As part of its human rights monitoring work, the Performance Committee monitors internal disciplinary proceedings and breaches of the Code of Ethics. In doing so, the Committee is able to assess the extent to which individual officers are paying due regard to human rights principles and the action that PSNI as an organisation takes in response to those breaches. Furthermore, this monitoring work enables the Committee to assess the effectiveness of the Code of Ethics should the Board consider revising the Code.
PSNI compliance with the Code of Ethics is reported upon publically each year in the Board's Human Rights Annual Reports.