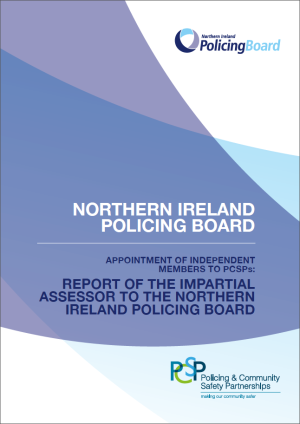 The Northern Ireland Policing Board has published the Report compiled by the Impartial Assessor on the Appointment of Independent Members to Policing and Community Safety Partnerships (PCSPs) and District Policing and Community Safety Partnerships (DPCSPs).
In line with the Department of Justice Code of Practice which governs the process, the Board is required to appoint an Impartial Assessor to assess the approach for openness, transparency, probity and effectiveness, to ensure compliance with the Code, and to provide a report for the Policing Board.
Policing Board Chair Doug Garrett welcomed the findings:
"The Impartial Assessor has found that the process to appoint Independent Members has been conducted in a manner that is fair, robust, open and transparent.
This independent scrutiny and analysis provides assurance on the approach taken and the Board will ensure that all 12 recommendations are taken forward by the relevant responsible owner."
Ends
For further information please contact the Board's Communications Branch on 028 90408541
Note to editors:
A copy of the Impartial Assessor's Report can be found here: /publication/impartial-assessor-report-appointment-independent-members-pcsps