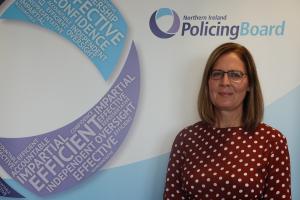 The Northern Ireland Policing Board has appointed Mrs Sinead Simpson as its new Chief Executive.
Welcoming the appointment Policing Board Chair Doug Garrett said:
"I am delighted to confirm that Sinead Simpson has been appointed as the Policing Board's new Chief Executive and takes up her position today.
Sinead will be the Board's most senior advisor and responsible for leading a team of staff who support our work."
The Board looks forward to working with Sinead in the time ahead."
Ends
For any further information please contact the Communications Branch on 07801738795
Notes to editors
Pen Picture: Sinead has over 20 years' experience working in senior management across the criminal justice sector. She has served as Chief Operating Officer for the Office of the Prisoner Ombudsman, Secretary and Advisor to the Consultative Group on the Past and was the Director of Policy with the first Northern Ireland Policing Board from 2001 to 2007. More recently Sinead has worked within the Department of Justice on Organised Crime, Community Safety, Corporate Engagement and Communications.  Sinead is married with 7 year old twins.
Photo Caption: The Policing Board's new Chief Executive Sinead Simpson.
Notes to editors ends.