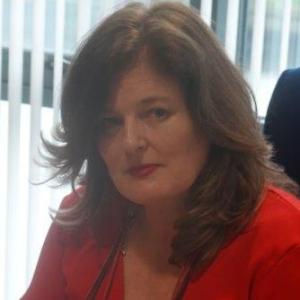 The Northern Ireland Policing Board has confirmed the appointment of Jon Boutcher QPM as the next Chief Constable of the Police Service of Northern Ireland (PSNI) following receipt of approval by the Secretary of State for Northern Ireland. 
Speaking about the appointment, Board Chair Deirdre Toner said:
"I am pleased to confirm that Jon Boutcher QPM is the successful candidate from this appointment competition. 
Jon takes on the leadership role for one of the most important public sector services in Northern Ireland. He is clearly committed to the challenges ahead, to tackling crime and criminality and to providing a policing service that is community based and focused on delivery to the public. 
There are also significant pieces of work to be progressed to manage and mitigate the serious financial pressures currently facing policing, and deal with confidence and other issues arising from recent events.  
As a Board we look forward to working with him as Chief Constable in dealing with the challenges faced."  
This leadership position carries extensive responsibilities, and the appointment necessarily comprised a rigorous selection process. Based on the key principles of merit, fairness, openness and transparency, independent scrutiny was incorporated at all stages of the process to provide added probity and assurance. 
The recommendation of the appointment panel was unanimously ratified by the Board at a special meeting and was subject to approval by the Secretary of State for Northern Ireland.
Ends 
For any further information please contact the Policing Board Communications Office on 028 90408500
Notes to Editors
Jon Boutcher has over 35 years' experience as a police officer serving level in a number of services as Assistant Chief Constable, Deputy Chief Constable and Chief Constable. Mr Boutcher is the former Chief Constable of Bedfordshire Police and led the Operation Kenova investigation.  

The appointment was made in line with Section 35 (1) of the Police NI Act 2000 and was subject approval by the Secretary of State for Northern Ireland in line with Section 35 (1) of the Police (NI) Act 2000 and the provisions of The Northern Ireland (Ministerial Appointment Functions) (No. 2) Regulations 2023.

Appointment panel comprised Board Chair Deirdre Toner, Independent Member Mukesh Sharma & Political Members Joanne Bunting, Gerry Kelly and Nuala McAllister.  

The panel received specialist independent Human Resources selection and appointment advice to support the design, delivery and quality assurance of the Chief Constable process. Wendy Williams from His Majesty's Inspectorate of Constabulary and Fire & Rescue Services acted as External Policing Advisor to the appointment panel.

The PSNI Chief Constable salary is 

£219,894 

plus benefits. The appointment will be for a fixed term of five years with the possibility of extension in accordance with legislation. 
Notes end