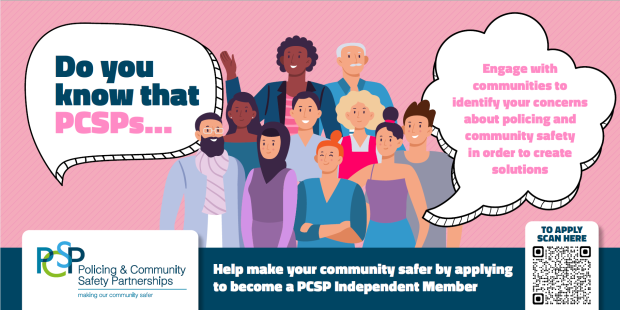 Applications are now open to become an Independent Member in your local Policing and Community Safety Partnership (PCSP).
PCSPs consult and engage with local communities to give them a voice on policing and community safety issues in their area. They are made up of local Councillors and Independent Members working alongside a range of statutory agencies and local organisations. Each Council area has a PCSP, Belfast having an additional four District PCSPs.
We want PCSPs to be as representative of the community as possible. The ideal PCSP Independent Member will have a good understanding of local community safety and policing issues, and live in or be closely connected to the area you'd like to represent.
Board Chair Deirdre Toner encouraged anyone thinking of applying to do so:
"This is a great opportunity to make sure the voice of your community is heard in local policing and community safety issues.
If you've ever felt your local police could do things better, your skill set could be helpful in resolving issues your community is having. Or if you simply want to make a difference to your area, now is your chance."
Applications for Independent Members close at noon on 13 October 2023.
Notes to editors
The PCSP Independent Member application can be accessed

https://nipolicingboard.getgotjobs.co.uk/

This is a voluntary role and does not attract any allowance. However, Independent Members are eligible to claim a general expense payment.

Full training is provided to all Independent Members.

More information on the application process and work of PCSPs can be found at

https://www.pcsps.

org/appointments